Description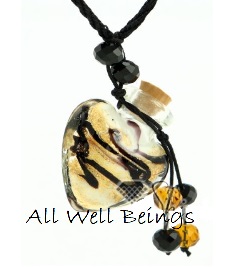 Aromatherapy Essential Oil Necklace Diffuser Set.
The glass heart-shaped bottle has an extendable cord with an essential oil bottle and crown cork
The lovely little glass bottle pendant hangs from an adjustable fine rope cord. Adding our essential oil or a fragrance of your own adds a personal touch to the piece.
Our necklaces are beautiful handcrafted quality and our High-quality essential oil diffuser necklaces are color infused and will never fade.
This set is a nice introduction to aromatherapy. Enjoy the refreshing and relaxing fragrance of Just Relax Essential oil Synergy Blend.
The Beautiful heart shaped handmade glass locket holds just enough oil to keep the fragrance with you throughout the day.
Perfect to keep for yourself or as a great gift idea for
Birthday
Anniversary
Wedding
Valentines
Mother's Day
Party Favor
Or for any other occasion